Excalibur Auctions held a very exciting sale on 13th March, featuring a large private collection of memorabilia from the deceased estate of Elliott Kastner. Kastner was an American film producer who began producing high profile films in the mid-1960s.  
Some of his best known credits include The Long Goodbye (1973), The Missouri Breaks (1976) Angel Heart (1987) and perhaps most notably the 1969 MGM WWII film Where Eagles Dare with Richard Burton and Clint Eastwood.
The auction featured a number of items including posters, unmade film scripts, advertising press packs, books, tape cassettes, all of which came from Kastner's office at London's Pinewood Studios.
Lot 366 was a large quantity of invitations to various events over the years, including from the US Ambassador, Rudolf Nuryev, Elizabeth Taylor, The White House 'President and Mrs Reagan', James Mason, together with many mainly hand signed Christmas cards from actors and musicians including Jean Michel Jarre, David Frost, Shakira and Michael Caine, Richard Burton, Arnold Schwarzenegger, Peter Sellers, Jim Hensen and more. This sold for a huge £1000 despite its pre-auction estimate of just £30-£50!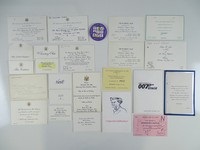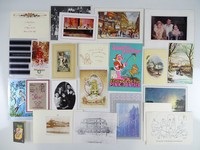 Another item from the Kastner collection was lot 389, a small group of items including his personalised desk blotter, a very strongly worded letter and similar telegram, a letter of apology regarding declaring the wrong age, a large cartoon on board 'EK'S DAY' and an early draft of unpublished memoirs. This has a pre-auction sale estimate of between £40-£60 yet sold for £650.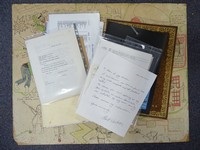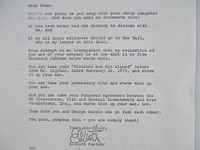 Similarly, lots 422 and 434 greatly exceeded expectations. Lot 422 was a Leroy Neiman portrait of Elliott Kastner on the back of a Tramps menu. Neiman was famous for doodling on menus in restaurants. This was dated May 1983 with a time marked of 2.30am. The note reads '"LIVE" Elliott Kastner conversing with John Tigrett at Tramps, 2.30AM 7-5-83 – after 2 tequilas chased by Harvey's Bristol Cream. Drawn by the artist after 4 mimosas. This sold for a huge £1000.
Lot 434 was a Pink Floyd: Carinthia West limited edition 1976 1/25 gelatin art print of Pink Floyd Pig at Battersea Power Station, together with 'Wish you were here' vinyl LP (2). Although it was only estimated to go for between £100 and £200, it sold for £1700.

Nearing the end of the auction, there were two lots which particularly impressed. These were the Where Eagles Dare items, lot 458 and 459.
Lot 458 was a Where Eagles Dare piece of conceptual artwork – 'The Castle' by Roy Carnon. During the early stages of pre-production it was quite common for producers to commission paintings to give the production team a feel for what the scenes would look like on screen! This sold for £1100. Lot 459, was another piece of conceptual artwork – 'control room' by Roy Carnon. This sold for £1650, despite a low-end auction estimate of just £300.

Thank you to our fantastic buyers and vendors for another hugely successful auction, and to our team for a smooth running of the day.